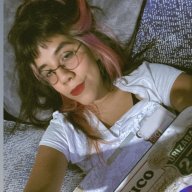 MexFighter
Fapstronaut, Female
Soberrrrrrrrrrrr and fighting this battle! Jan 20, 2022 at 11:40 PM
MexFighter was last seen:

Jan 22, 2022 at 6:11 PM
Loading...

Loading...

About

Hola! Soy mexicana, adicta a SPMO desde los 11 años.
Por muchos años escondí mi adicción y traté de salir de ella sola.. Traté de romper el circulo vicioso y siempre fallé..
A los 17 años inicié mi proceso de restauración y llevo 11 años en la lucha.
Mis rachas de sobriedad han sido 6 meses las mas largas.
Estoy en este sitio para tener una red de apoyo y seguirla luchando cada día..
Como dice Pablo:
Yo sé muy bien que todavía no he alcanzado la meta; pero he decidido no fijarme en lo que ya he recorrido, sino que ahora me concentro en lo que me falta por recorrer.

.

Fil 3:3

​

Interact

Signature

I know that I still have a long way to go. But there is one thing I do:

I forget what is in the past and try as hard as I can to reach the goal before me

. Phil 3:13

Loading...