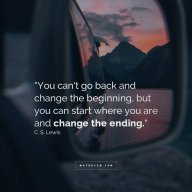 rostronaut
Nofap Moderator, Male
Staff Member
The Two things in life you are in total control over are your attitude and your effort. Oct 15, 2019
Loading...

About

Gender:

Male

Journal Thread Link:

Changing myself from time to time, and accepting and living in this weird world, where good people are not appreciated and dont deserve anything good.
My dog, my family, my kindle, my community, my newspaper and my studies are the only which matter to me from this moment, and wont ever let a girl take that place.
Learnt it a hard way.

"What i learnt with respect to girls in my life is, no matter how good,honest, loving you might be a consent is consent, it should be from both sides, never forced. When you do things from your side and even if you get permission, that is no negative gesture in return and continue and later you find out, that the girl never was interested, it merely shows that you forced someone, and that my friends is really bad, even though in reality you might express it in form of love"
Its difficult to know when consent is proper.

So my friends, stop wasting your time on girls, whoever is written in destiny, will surely come to you. You won't have to search that one woman in every woman you meet.

Interact

Signature

I'm using NoFap's new PMO Tracker! Set up your own here.